My Cancer Story
1 of 1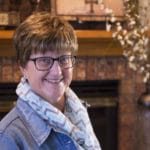 "There are a lot of uncertainties in life while undergoing cancer treatment. One thing I can always count on are my caring and compassionate health care providers."
"Due to hereditary cancer my grandchildren are at a higher risk of developing cancer themselves. That's a legacy no one wants to leave. Cancer research is important to me!"
---
1 Reply to "My Cancer Story"
Lisa Johnson

September 19, 2016 (1:26 pm)

Thank you for sharing your story with us. Cancer research is extremely important to all of us. We all hope that one day there will be a cure for all cancers! Please tell your family and friends to log on and share. Everyone has a story and we need everyone to help us in this battle 4 a cure!
---