Promise Petals
Promise Petals, a Cattlemen's Ball tradition, are floral arrangements that are used as centerpieces for the reserved Trail Boss tables in the main tent. You can purchase a Promise Petals centerpiece to honor someone you hold dear to your heart who fought or is fighting cancer, or to honor the beauty in their determination.
This year's Promise Petals arrangement will feature a classic mix of classic faux florals, a ceramic glass insert adorned with the 25th-anniversary Cattlemen's Ball logo, native bird feathers, and a metal hoop atop of a natural wood stand.
If desired, you may add "In honor of" or "In memory of" and the name of your loved one. You will be contacted after you place your order to collect this information.
You may pick-up your Promise Petals arrangement once the auction is completed on Saturday night to take home and enjoy.
Please use the link below to purchase your Promise Petals arrangement by May 1 (while supplies last).
Cost: $100 plus tax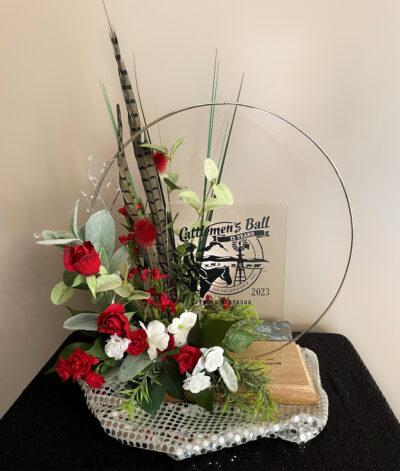 2023 Promise Petal Mock-Up
Example photo, centerpieces may vary.