$1,747,961.89
That's the grand total that was raised at the 2018 Cattlemen's Ball of Nebraska! We are humbled by your generosity!  Thanks – and we'll see you in 2019!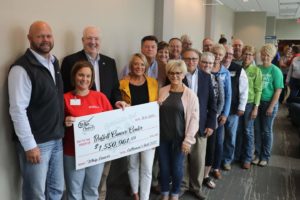 Cattlemen's Ball by the numbers:
50 committees to plan and organize
200-250 people each committee
40+ communities representing the committees
1,100 volunteers from approximately 100 zip codes
1,512 tables
4,500 chairs
3 semi loads of wood chips
More than $13,000 sold in table decorations (goal was $5,000)
$13,000 made on golf tourney
$27,430 made on the same five bottles of wine
$77,000 made on 26 guns (net)
$80,000 made on beverages
$663,000 on four auctions with 285 items for the silent auction
$260,000 Calf For A Cure
1 very confident group (steering committee) with a $1.5 million goal
$1,747,961 total amount made on the Ball
31 percent of the total, minus the fundraiser, for expenses
$1,550,961 to the Fred and Pamela Buffett Center
10 percent stays in the home country
$173,000 to 56 groups in this area – 4 hospitals, 31 fire departments, 3 sheriff departments, 9 FFA programs, 7 community organizations and other health and wellness groups.