Stakeholders of the 2017 Nebraska Cattlemen's Ball will be honored with a tour of the new Fred & Pamela Buffett Cancer Center in Omaha, NE. Stakeholders will arrive at the Buffett Cancer Center on Thursday, the 29th of September. Kenneth H. Cowan, MD, PhD, will present to the group from 11:00 to 2:30 pm.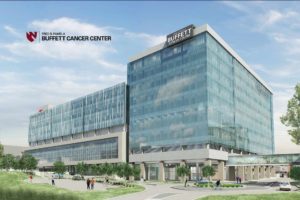 The Fred & Pamela Buffett Cancer Center project is designed to shape cancer care, research and education in Nebraska, the region and the world. The Buffett Cancer Center (formerly known as the Eppley Cancer Center) received its National Cancer Institute (NCI)-designation in 1983, and is the only one in Nebraska to earn such distinction.  It is also one of 14 founding members of the alliance of leading cancer centers known as the National Comprehensive Cancer Network (NCCN). In 2013 ground was broken on a new cancer center complex on the UNMC main campus, with an estimated completion date of 2017.  Please visit buffettcancercenter.com for more information.
The Cattlemen's Ball of Nebraska is a 501(c)(3) charity focused on ensuring that the money raised goes to cancer research and local health and wellness programs for which it is intended. Over the sixteen-year history of the event, the money raised has gone directly to cancer research and care programs in Nebraska. Please visit cattlemensball.com for more information.
For more information, please contact Lisa Johnson at lonesomeriverranchllc@gmail.com or (308) 870-1388. Lisa and her husband Jeff will be hosting the 2017 Cattlemen's Ball in Anselmo, NE on June 2nd and 3rd, 2017.