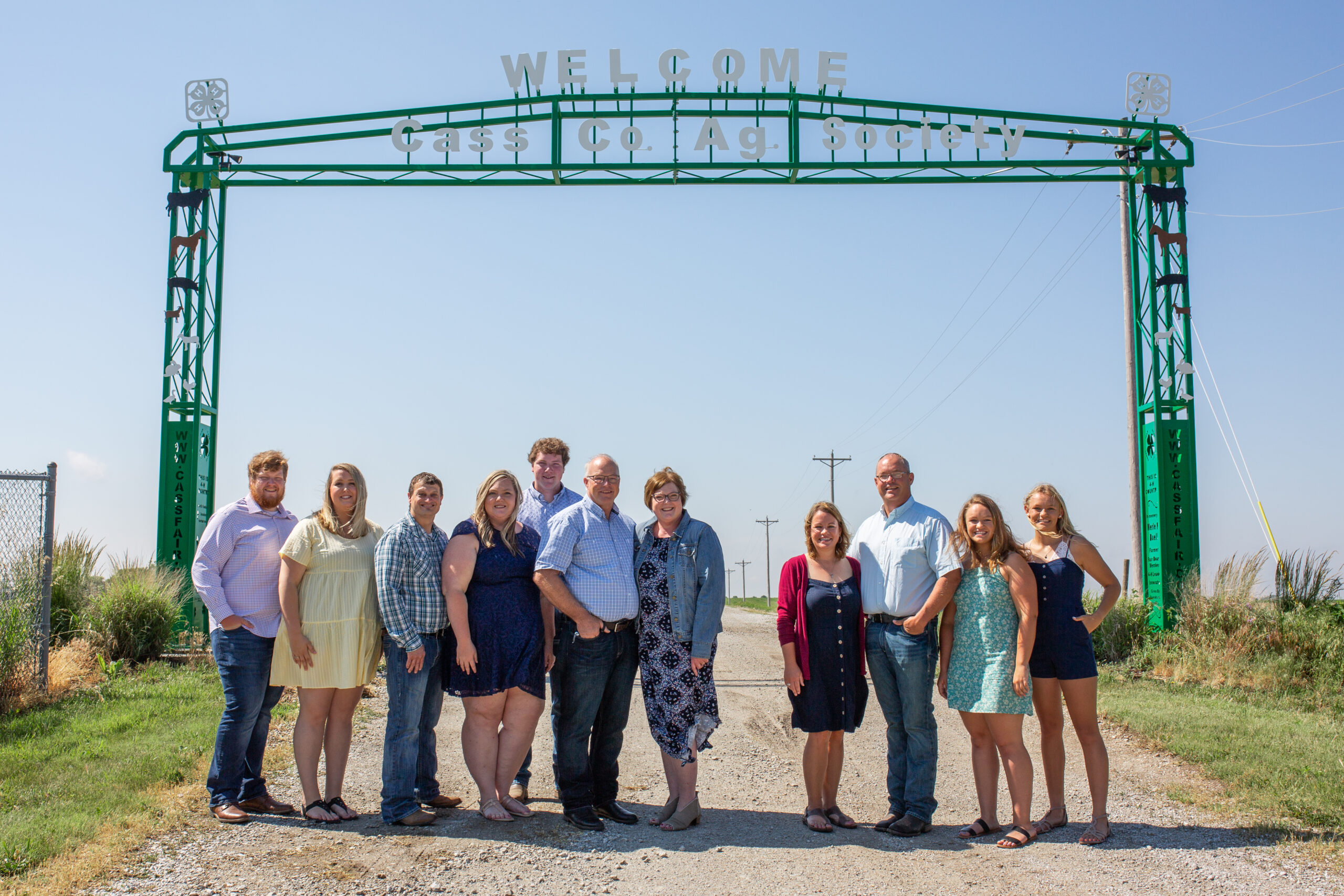 Join us in Weeping Water in 2022!
The 2022 Cattlemen's Ball in Weeping Water, Neb., is being spearheaded by two host families – Mark and Candi Rathe with their daughters Brooklyn and Jillian, of Weeping Water, and Dr. Scott and Karen Lubben with their children Angela and her husband, EJ; Matthew and his wife, Lauren; and Jeremiah, of Plattsmouth. Approximately 700 volunteers from the local area will support the event.
"We're extremely excited to bring this event to Cass County," said Mark Rathe, who serves as the Cass County Fair board president. "This is an incredible opportunity for folks to come together for a great cause and have fun while doing it. I have high expectations for both the quality of the event and the outcome."
Location lends itself to success
Since the inaugural event in 1998, the Cattlemen's Ball has raised more than $16 million to fund cancer research. Ninety percent of the proceeds go to the Fred & Pamela Buffett Cancer Center and the remaining 10% is returned to the local community for health and wellness initiatives.
Rathe has set an informal goal to raise $2 million at next year's event, which would be a record-breaking accomplishment.
"Our location gives us a unique advantage," he said. "We're a rural, agriculture-based community, which is typical for Cattlemen's Ball locations, but we're also ideally situated between Nebraska's two largest cities. I think that combination will enable us to draw a large, diverse crowd. We want people to know this event isn't just for cattle producers and cowboys – it's for all Nebraskans."
Weeping Water, which has a population of approximately 1,200 people, is located about 30 minutes south of Omaha and 40 minutes east of Lincoln. The closest previous Cattlemen's Ball location was Ashland in 2003.
No ball gowns required
While the term "ball" typically refers to a formal event with dancing, the Cattlemen's Ball is not that, explained Dr. Scott Lubben, a Cass County veterinarian whose office is in Louisville. Activities in recent years have included a benefit run, golf tournament, cancer survivor style show, beef experience, beer and wine tastings, silent and live auctions, prime rib dinner, concerts and more.
"We're looking forward to continuing those same activities, but putting our own local spin on them," he said. "We'll also be looking for ways to expand and make the Ball better than ever."
While the event is open to all, there is a level of exclusivity. Ticket sales will be capped at 1,500 for a two-day pass and 3,000 for a Saturday-only pass.
"We expect this to be a sell-out event," Lubben said. "So, we encourage anyone interested in attending the 2022 Cattlemen's Ball to stay tuned as planning progresses and tickets go on sale later this year. We can't wait to see everyone in Weeping Water next June."