Volunteer
---
---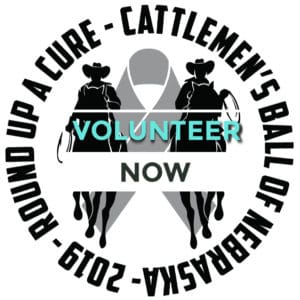 "The most precious gift any one of us can give is our time." ~Dr. Tom Osborne
*For those of you that have already signed up to volunteer during the 2019 Cattlemen's Ball of Nebraska, please click here for more details on what you can expect during your volunteer time. Thank You!
What fuels the largest cancer research fundraising event in the entire state of Nebraska?
People.
People just like you ~ ordinary people with extraordinarily large and magnanimously giving and caring hearts.
The task of organizing and carrying out a Cattlemen's Ball event is no small undertaking, but it has been proven that TEAMWORK divides the task and multiplies its success!
No matter what your role is, when you volunteer for the Cattlemen's Ball of Nebraska, you are guaranteed to be an integral part of something much greater than you can imagine.  Your contribution of yourself and your time will in essence be helping researchers who are working tirelessly toward the goal of finding a cure for cancer.
Are you an individual?  We can use your help.
Are you a couple or a family?  We can use your help, also.
Do you belong to a civic, church, school group or organization? Large or small, "volunteer groups" are also definitely welcome.
Everyone has a gift – an exceptionally precious gift we can all share with others:  our time.  Opportunities abound within the Cattlemen's Ball.  There are a plethora of jobs to do:  before, during and afterward.  Various shifts and times throughout the week prior to the event will need to be filled.  Volunteers will also be needed during the actual two-day Ball event.  Help will be needed on theSunday to follow, as well.
Won't you consider joining our team of volunteers?
The Cattlemen's Ball of Nebraska relies on the gift of your time, so register NOW to become a volunteer.  Make plans not only to attend The Cattlemen's Ball of Nebraska, but also to give of your time and energy to make this event an enormous success.
Together we can make a difference.