Krausnicks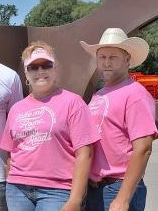 Wayne and Chris Krausnick were born and raised in Chase County Nebraska. Wayne attended and graduated from Wauneta High School and Chris attended and graduated from Chase County High School. They have two boys, Jesse (14) and Wyatt (9) along with niece Brooke (18).
The Krausnicks are very active in several aspects of agriculture including ranching for 21 years, farming and have a custom haying business in the summer. Twelve years ago, they became involved in custom feeding cattle in a small feedlot northwest of Imperial and then 3 years ago had the opportunity to purchase their own feed yard only two miles west of Imperial.
When not working they are busy chasing after the three kids that are involved in everything from school sports to all different activities in 4-H and FFA. Wayne enjoys being active in the Young Farmers and Ranchers Organization while Chris stays busy being on the Chase County Fair board for the past 16 years. In between all of this, the family likes to help out volunteering at the local movie theater a couple of times a year.
When there is extra time the family really likes to go camping at Lake Enders in the summer and go the beautiful Rocky Mountains for snow skiing in the winter. As you can see, they feel like their family is very fortunate to be able to all be so involved in their Ag based life and they love every minute of it!